This MedImage Server add-on provides the ability to automatically analyze and track the size of a wound over time.
Patient ID and wound name search
Wound area calculation, and auto-sticker detection
Colour picking from the photo to determine the wound's colour ranges
A list-view, to allow analysis of the wound over time
Auto-percentage improvement calculation of the wound over time
Photo meta-data export to a spreadsheet for further analysis
Live group messaging around each wound case
Mobile patient consent and free-style drawing over the image

This product has been built in partnership with Nurse Maude, New Zealand. You can download a free 30 day trial.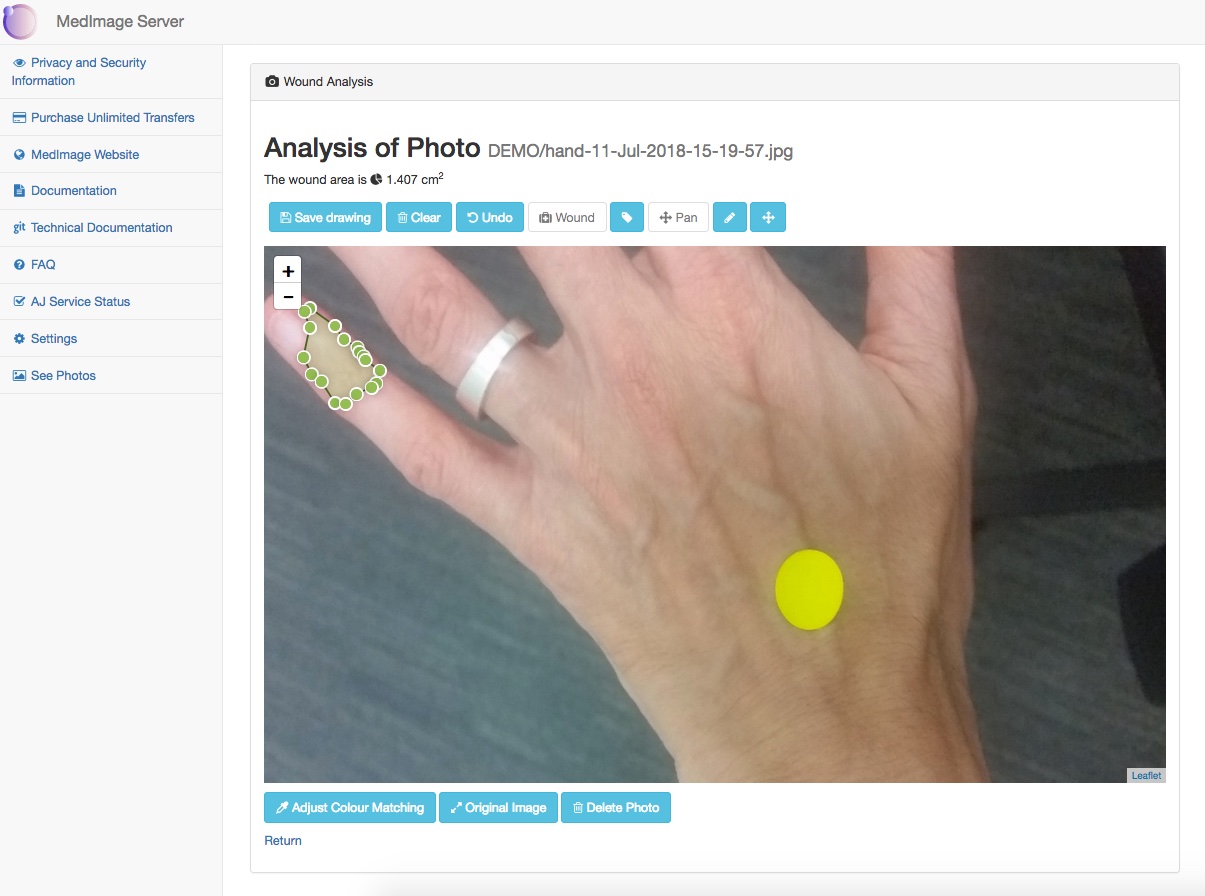 Live Demo
Try the live demo server below, or watch the video.
Use the credentials:
Password: public
Patient ID: test
Note: you can connect and send photos to this demo with your own MedImage app or Wound Mapp apps, but any photos you take will be visible to the public and removed daily.  Please do not send patient photos to this server.
Wound
Mapp
Unlimited Usage
1 Month Free Trial
This add-on requires the MedImage Desktop or Server >= 1.7.4, on Windows or Linux.

Download a Free Trial User Guide
Trial terms: Make sure you read the Guide before installation.
If you are happy with the software, please let us know, and we can arrange an invoice. If not, we're grateful for your feedback.
Note: Prices are in NZ$. To convert to US dollars, $NZ450 = $US329.
Specifications
PC-side Platforms: Windows 32 / 64, Desktop or Server, Windows tablet, Linux.
Supported Client Apps: MedImage, Wound Mapp
Supported Phones: Android mobiles, Android tablets, iPhone mobiles, iPads
Resolution of Photos stored: The resolution of the phone's camera
Storage requirements: Assume an average of 5MB per photo. Usually this will be doubled across a shared network drive. Phones do not retain the photos.
Networking setup: Desktop tool connecting into a shared network drive for shared photo storage (unlimited users). Or as a server on a LAN with a shared password (1 – 5 users).
Accuracy: Approx 95% area measurement accuracy. You should hold your phone within 5 – 10 degrees square to the wound and sticker to prevent degradation of accuracy, and approximately 20cm away from the wound. See the study here. These figures may vary with large wounds around body curves.
Sticker Requirements: Flexible, but the default configuration is with Esselte 14mm diameter yellow stickers. These are not sold with the package, but are standard off-the-shelf items.
Exported Data: .csv format, which can be imported into Excel, Google Sheets and other spreadsheet software.
Wound Measurement tool: Mobile finger tracing support (approx 97% accurate), Stylus support, Desktop mouse editing for fine-tuning. Immediate access to tracing from the Wound Mapp app. Zoom and pan capability.
Security: 256 bit AES Encryption, transferred via the Internet, or your organisation intranet, and on to your own LAN network. Your desktop must have the ability to browse the internet / intranet, but does not need to be exposed to the outside world. This configuration is HISO and HIPAA compliant. Wifi is an optional transfer mechanism. Photos are removed from both the phone and transfer machines after transmission.
Backups: Photo backups can be configured to occur in the MedImage Server automatically to a drive of your choosing.